Home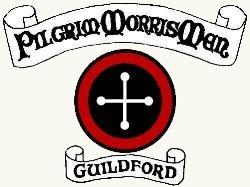 WELCOME to the Pilgrim Morris Men of Guildford, the local men's morris dancing side of Guildford, Surrey, England, since 1972. We dance a variety of traditions in the Cotswold style, generally dancing around Surrey and north-east Hampshire during the summer season. From time to time we will head off to other locations, mainly for tours or festivals, and we dance at corporate events.
Our 2017 dance programme will be published shortly. Please check the programme from time to time, as it does change as bookings and gigs are confirmed. We also keep our twitter feed and Facebook pages up to date, so follow us to receive bang up to date news on gigs and events (links at bottom of page). If you'd like to book us for an event, or to dance at your pub, contact us on Facebook or twitter for the quickest response. Otherwise we can be contacted via email to our Bagman (follow link on page).
As the 2017 programme is nearly full, please contact us as soon as possible, and if we are able to support your event we will. However, we have had to decline invitations from regular events this year, as we were pretty much booked up by Christmas, but hope to be back at those events in 2018 if we are invited. As we are already taking bookings for 2018, please contact us as soon as you can.
This year we will be kicking off our season with Summerpole, the all day event in Guildford on Saturday, 29th April, comprising morris dancing, May pole, summer court and procession. We will be joined by guest Sides, Marlings Morris of Edenbridge, Fleur-de-Lys of Godalming and Ewell St Mary. Highlights of the season will include Jacob's Well May Fair; Seale and Sands Show; Bourne Show; Rustic Sunday at Tilford Rural Life Centre; Broadwood Morris Day of Dance in Horsham and the Surrey County Show. Of course, we will be dancing at lots of pubs, and this year will be making an effort to get to pubs we've not danced at for a while, many of which are in the outlying villages. With so many pubs now being (basically) restaurants, it is increasingly difficult to find a pub with an audience, so we really do appreciate the pubs and audiences who support us on our Wednesday night pub dance-outs.
Whilst our practice season is nearly finished, we always welcome new recruits; dancers and musicians alike. So if you see us out and about over the summer and fancy trying morris dancing, please talk to us. Being a Pilgrim is about more than dancing: we normally have a music session after our pub gigs. And we present the traditional Guildford Mummers Play on Twelfth Night (6th Jan) in the oldest pubs in Guildford town centre every year.
Our current core dances are from the Adderbury, Ducklington, Field Town and Bampton traditions.
For any amateur or professional photographers who would like to take photos of us for publications and web sites, if you let us know in advance, we can ensure we can line up the best photo opportunity for you. We are always very grateful for any photos or videos, we're normally too busy to take them ourselves! If you'd like to see photos of us in the media to get a flavour of the sorts of photos the professional photographers take of us, we have been featured in the national press, such as The Times and Express, and the BBC website. Our thanks to Getty Images in particular for their continued support and excellent photos. Search for us on Google etc. and they should pop up. There are also lots of photos of us on Flickr etc.
If you'd like to see us in action, search for Pilgrim Morris Men on Youtube, there are lots of videos of us. You can also find us on twitter (@PilgrimMorris and #calveslikepistons) and Facebook.
Meanwhile, here we are dancing Beaux of London City…
http://www.youtube.com/watch?v=v9Y2m96S3PQ
And here's one that a member of the audience posted of us dancing at dawn on May Day, at St Martha's Hill, near Guildford.
http://www.youtube.com/watch?v=4w0qrNf_DyQ
The next 4 Pilgrim Morris Events are below… Visit the Events page to see the full programme.

Saturday, 29th April
@10:30
Summerpole!!!
Summer pole is back. Following our 40th last year, another day of dancing, singing, fun and merriment. Guest sides will be announced nearer the time. All day in Guildford Town Centre. Starts outside The Star, High St, followed by procession to Castle Green via High St, Chapel St and Castle Grounds/ Keep. The Summerpole will be erected in Castle Green. More dancing after lunch at Town Bridge. Finishes at "tea time".
Monday, 1st May
@05:15
May Day Dawn
Welcome in the spring/ summer months at St. Martha's Hill, near Guildford
@14:30
Jacob's Well May Fair
Our first visit to Jacob's Well, where we are planning on cajoling Flavia (who's opening the Fair) to dance with us (but don't tell her).
Saturday, 6th May
@10:30
Broadwood Day of Dance, Horsham
A small, select band of Pilgrims will be joining the throngs in Horsham for Broadwood's excellent day of dance once again.
Tuesday, 30th May
@10:00
Surrey County Show
Its the late bank holiday Monday, its Guildford, its the County Show, so it must be time to watch us girding our loins to dance around the showgrounds all day, mud or no mud.